Hondata Flashpro FK8 Traction Control
Hondata Flashpro FK8 Traction Control
If you are looking to achieve the best possible performance from your FK8, utilising the traction control feature within the Hondata Flashpro is one way in which you can do this. Below is some information on how it works.
How Does Traction Control Work?
The difference between front and wheel speed is known within the ECU at all times. When the front wheels are turning faster than the rear, the ECU can calculate a percentage of wheel slip. Once a slip threshold is reached (set in the software by the user) the ECU will retard ignition timing to reduce engine power, and therefore reduce wheel slip.
Enabling Traction Control Within The Flashpro Manager Software
To enable traction control within the Hondata Flashpro is a simple process. Select 'Calibration', then 'Traction Control', then tick 'Enable Traction Control'. Upload the program to your ECU.
The factory default settings for this are a very good starting point.
Adjustment of the Traction Control
The Hondata traction control is a fully tuneable system. The amount of allowable wheel slip and ignition retard is adjustable, in addition to other parameters. The parameters can be adjusted in conjunction with other logged sensors (for example G sensor) to achieve optimum performance. Below is a screen shot showing the parameters within the Flashpro Manager software.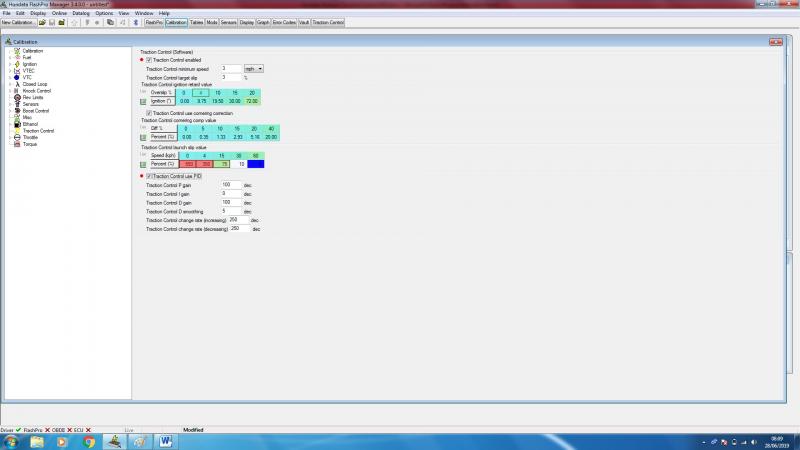 Below is another screenshot of a datalog which shows the traction control working.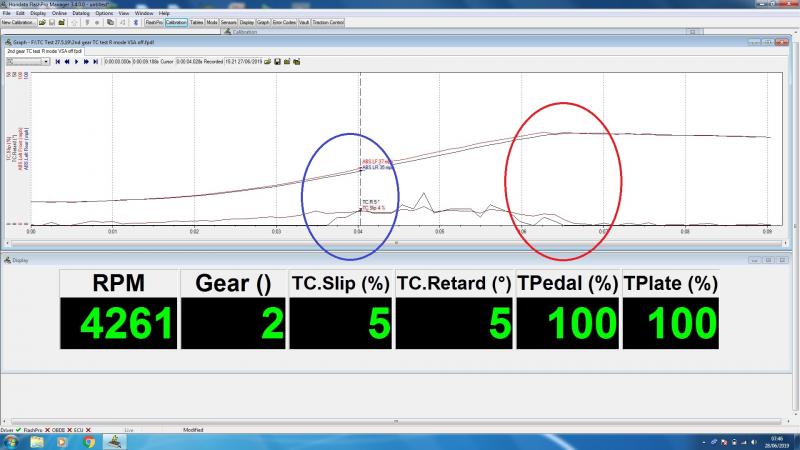 Above you can see, as the front wheel speed increases in excess of the rear, a percentage of slip is calculated (circled in blue 'TC Slip 4 %'). The traction control responds by retarding the ignition timing ('TC R 5 deg') and therefore reducing engine power output. As the wheel slip reduces, the ignition retard is in turn progressively reduced until the wheel slip is under the threshold set within the ECU (circled in red).
NOTE
Optimum acceleration is not usually achieved without any wheel slip at all. By fine tuning the traction control system the vehicle can be set up to allow the amount of wheel slip that produces optimum acceleration. You can find out more about the Hondata Flashpro system here:
https://www.cplracing.co.uk/products/hondata-flashpro-honda-civic-fk8