Our Workshop and Facilities
Overview
CPL Racing is the home of Honda tuning, we were the UK's first Honda specialist and have always invested in the most advanced facilities, equipment and technology, and offer a wide range of proven products and services. We own four vehicles which are used extensively for research and development solely us, and also in partnership with the manufacturers that we work closely with, such as Hondata, Jackson Racing, Clutchmasters and Quaife Engineering. Having a collection of our own vehicles allows us to thoroughly test other manufacturers' products for comparison and durability, and also enables us to design, fit and thoroughly test our own expanding range of CPL Racing products before we offer them for sale to our customers.
We pride ourselves on being at the forefront of performance tuning, evidenced by our ability to consistently break records in the CPL Team cars.
Dyno Facilities
With no statutory standards for dyno measurement, we appreciate it can be confusing to the customer as all makes of dyno give different readings for power and torque. We took an alternative approach from the start, and purchased our first two-wheel drive dyno back in 2003 purely on its capabilities, accuracy and consistency of readings. We were so impressed with this dyno that we upgraded to the four-wheel drive version in 2006. Since our inception we have always backed up the readings from our dyno at the track by winning races and breaking records. CPL Racing were only the second tuning company in the UK to install a Dyno Dynamics dyno in 2003. Since then scores of these dynos have been installed throughout the UK and in tuning shops throughout Europe. Oil giant BP even purchased seven for their own in-house R&D facilities.
Dyno Dynamics is now THE industry standard throughout the UK, Europe and beyond. More information on Dyno Dynamics can be found here: - http://www.dyno.com.au/dyno/controller/specs/showAWD450DSPage

A well designed dyno cell is of paramount importance with any dyno test facility, which is why our dyno cell has been optimally and acoustically designed to the highest specification. Our test cell maintains a stable testing environment by ensuring complete air renewal cycles at intervals of 10 times per minute. For more information on evaluating the performance of your vehicle, see this link (link to Total Honda article 1).
Picture of the CPL Racing dyno test facility (below)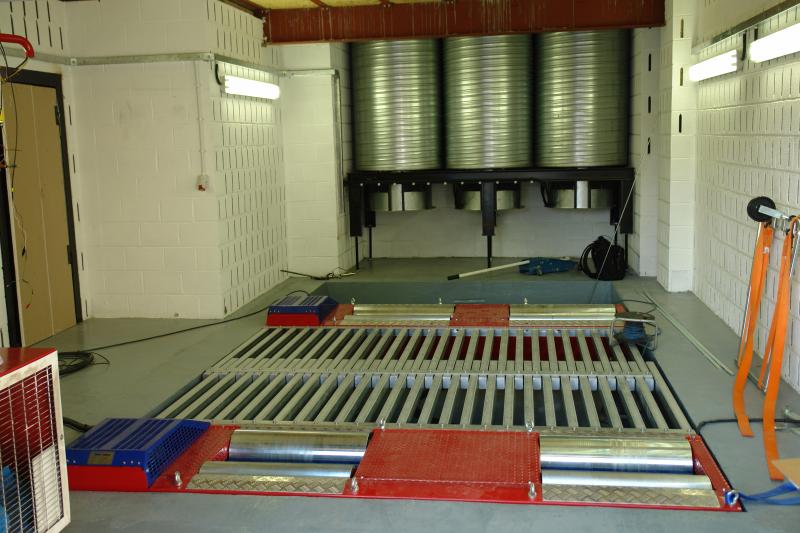 Workshop Facilities and Services Offered

CPL Racing are based in a 4400 square foot workshop which includes: -
- Temperature controlled engine building facility, fully-stocked with superior quality measuring equipment to within 0.001mm degree of accuracy; air pre-filter/purification system; and offering engine component balancing to 0.1 gram.
- A high specification flow bench which allows measured airflow improvements on our ported cylinder heads and components
- Precision boring and honing
- Closed deck block conversion (othwise known as cylinder support system - CSS)
- Engine block sleeving
- Welding and fabrication
- Supertracker 4 wheel laser wheel alignment
- Gearbox building, rebuilding and refurbishment facilities
- In house machine-shop facilities including Hurco CNC milling centre and Hurco CNC turning centre

- Advanced CAD/CAM facilities

- Dedicated electronics engineer – highly specialist in ECU socketing, ECU testing and diagnostics, and building of bespoke wiring looms

- On-site waiting room facilities (however please see the "Contact" page for things to do and places to stay whilst your car is being worked on in the CPL workshop)

- Off-site warehouse stocked with Hondata, CPL Racing, Jackson Racing, Injector Dynamics, Clutchmasters, Quaife and other high quality manufacturer's products, ensuring we always have in stock the most popular items for your performance vehicle

- On-site monitored secure workshop storage for customer vehicles. All customer vehicles are ALWAYS securely locked inside our workshop overnight without exception.

In summary CPL Racing can accomodate all your needs from engine building, to high performance tuning, to the regular servicing of your car. We can also arrange for the MOT of your car whilst it is on our premises.
Below are some further photos of our new and existing facilities and workshop.