Quaife 5 Speed Sequential Gearkit - Honda K20
Category:
Drivetrain
Brand:
Quaife
Vehicle Fitment Information
---
-
Honda
,
Civic EP3 (2001 - 2006)
-
Honda
,
Civic FD2 (2007 - 2011)
-
Honda
,
Civic FN2 (2007 - 2011)
-
Honda
,
Integra DC5 (2001 - 2006)
-
Honda
,
K Series Engine Swap Parts
-
Ariel
,
Atom 2 K20A
-
Ariel
,
Atom 3 K20Z
All fitment information is only a guide, exact fitment may differ. If in doubt please contact us.
Price: £4,220.00 ex VAT
(inc VAT £5,064.00)
This product is not available to order online, Please
contact us
to place an order for this product
Product Images
---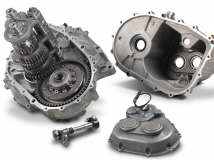 (Click to enlarge)
Product Description
---
Responding to requests from numerous customers for a stronger, high performance, affordable gearbox solution for the popular Honda Civic Type R, transmission specialist Quaife Engineering has launched an innovative 5-speed sequential gear kit for the EP3, FN2, DC5 and FD2 versions of the car. The gear kit is a direct replacement for the standard six-speed H-pattern Honda transmission.
Designed to overcome the performance and road gearing compromises of the stock six-speed synchromesh gearbox, the gear kit converts the factory Honda transmission into a faster shifting five-speed, dog engagement sequential unit featuring wider, stronger, close-ratio gears, ideally suited to the rigours of circuit racing, drag, rally and track day use.
The gear kit features a compact, drum style sequential gear change mechanism and an open face dog design to ensure an ultra rapid, positive sequential gearshift that transforms the car's performance.
The outer gearbox case incorporates an additional support bearing between 4th and 5th gear. By comparison, the original Honda design relies on bearing supports located at either end of the gearbox shafts – a potential weak point, particularly for cars running highly tuned K20A engines.
The original EP3/FN2/DC5/FD2 bell-housing half is reused, enabling the retention of the Honda clutch, differential, driveshafts and mounting points. The main advantage of this layout is that it allows for an easy installation into the EP3, FN2, DC5, FD2 models without extensive additional modifications. Additonally, CPL Racing can offer fitment to Ariel Atom 2 and 3, K20 powered Lotus Elise/Exige and other K20 swap vehicles (including paddle-shift upgrade if required).
Wide straight cut (spur) close-ratio gears minimise transmission losses and offer a choice of rally, race or drag race gearing. There is also the choice of a helical gear set for road and track day applications, and the gear kit comes supplied with a floor mounted gear lever and gearshift cable.
An LED digital gear position indicator is also available as an optional cost extra.
CPL Racing are please to offer Quaife's newly released sequential gear kit for Honda K20 powered vehicles. Having been involved with this innovative gear kit from its early inception, and then fitting and testing the very first kit to our own shop vehicle CPL Racing can confirm that this gear kit makes an outstanding addition to owners of any K20 powered vehicle who are looking for serious performance and reliability.
CPL Racing has successfully interfaced the gear kit with the highly popular Hondata engine management systems as well as other engine management systems to allow near seamless full throttle shifts.
Features: -
- Strengthened outer casing and five wider than standard gears
- Ultra fast sequential gearshift with straight cut or helical close-ratio gears
- Retains stock EP3 / FN2 / DC5 / FD2 clutch, differential, driveshafts and mounts
- LED digital gear position indicator available as an option at additional cost
- Optional Quaife ATB differential for both standard driveshafts and 28T DSS uprated shafts
- Competitively priced at £4095 excluding VAT
Gear ratios available:-
1st 2nd 3rd 4th 5th
3.100 2.067 1.421 1.048 0.870 - Drag Set (straight-cut / spur)
3.100 2.067 1.611 1.333 1.136 - Rally Set (straight-cut / spur)
2.417 1.611 1.263 1.000 0.852 - Race Set (straight-cut / spur)
2.400 1.600 1.261 1.038 0.857 - Road/Track Helical Set
Final Drive Ratios
4.357 / 4.750 Straight-cut (spur) 4.750 Helical
CPL Racing can offer 3 levels of options for the sequential gearkit as follows:
1 - We can supply just the gearkit for customer fitment (only recommended for customers with extensive experience in building gearboxes)
2 - You can ship us a donor gearbox and we can fit a new Quaife sequentail gearkit for you
3 - We can supply brand new Honda gearbox parts to build a gearbox with the Quaife sequential
For more details and prices on the above options please email us at guy@cplracing.co.uk requesting a Quaife Sequential order form and price list
Related Products
---
-
Clutchmasters FX400 Stage 4 Clutch - Civic Type R EP3, FN2 and FD2 & Honda Integra DC5
-
Clutchmasters Lightweight Flywheel - Honda Civic Type R EP3, FN2 and FD2 & Honda Integra DC5
-
Quaife ATB Differential - Honda Civic Type R EP3, DC5, FN2, FD2, K Series
More From Quaife
-
Quaife 5 Speed Sequential Gearkit - Honda K20
-
Quaife ATB Differential - Honda Civic EG6 EE8 EF B16A1 B16A2 with cable transmission / Y21 gearbox
-
Quaife ATB Differential - Honda Civic Type R EK9 - B16B
More From Category
-
Clutchmasters FX100 Stage 1 Clutch - Civic Type R EP3, FN2 and FD2 & Honda Integra DC5
-
Clutchmasters FX100 Stage 1 Clutch - Honda B Series
-
Clutchmasters FX300 Stage 3 Clutch - Civic Type R EP3, FN2 and FD2 & Honda Integra DC5