| | |
| --- | --- |
| | Featured Product: Hondata Heatshield Gasket |
| | |
| --- | --- |
| | Hondata have developed a special high temperature insulating gasket which replaces the stock intake manifold gasket. This and bypassing several heat sources significantly reduces the transfer of heat ... Read More |
| | |
| --- | --- |
| | CPL News |
Hondata Traction Control - Test
---
Yesterday we tested the new Hondata Traction Control system on the CPL Racing FN2.
This car has the following engine upgrades:
- Jackson Racing/CPL Racing supercharger
- CPL Race Manifold
- Hondata Flashpro
Plus a Quaife ATB differential
This car is full weight and is fitted with the regular Bridgestone road tyres (30psi).
Conditions were not great as the roads were very damp, but despite this when Guy came back from testing he said one word
"Phenomenal"
He took one of our customers with him who also drove the car and he was equally impressed. This was his comments: -
"Was a great day, cant believe how well the system worked, a must for any fast road/track day car owner!"
With no detailed setup of the traction control system the 0-60mph times were improved by over 1.5 seconds. Here is a video of our test: -
And here is Hondata's video: -
CPL Racing Set Another European Record - 9.45 @ 156 mph and Outlaw Shootout
---
Last weekend saw the 2nd Annual FWD Outlaw Shootout at Santa Pod Raceway and some hot sunshine for a change..........
The CPL turbo car had been suffering lately from handling issues at the track due to the immense amount of power being put through the wheels, and changes we had made over the winter, which was making the car difficult to drive. We managed to get the handling setup spot-on at our last practice session when Guy ran a 9.64 and and now Guy says the car is so easy to drive he could do it with just one hand on the steering wheel. Everyone had been frantically getting their cars ready for the Outlaw Shootout, cars were on the dyno right up until the last minute, and Andy Nichols was rebuilding his Rover gearbox the night before. CPL customer Mike Dunlevy travelled all the way down from Scotland to race in his EK9.
Below - Mike Dunlevy's EK9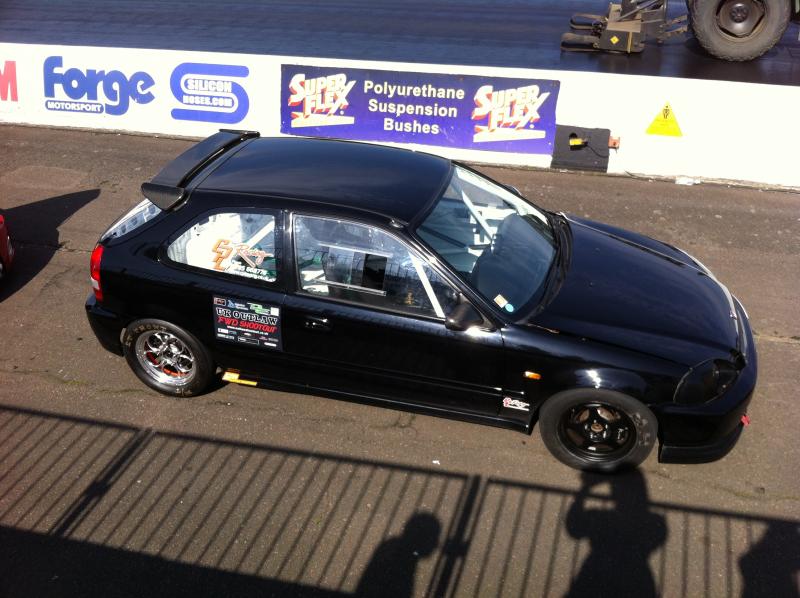 A couple of issues at the track on the Saturday before put out one or two of the entrants. Richard Batty in his Mitsubishi broke a section of his driveshaft, but luckily CPL Racing had a spare on the shelf so this was rushed up to the track first thing on Sunday morning to carry out the necessary repair. So with (almost) everyone ready and the sun shining, the Outlaw entrants queue up in the fire-up lane for the first qualifying passes of the day.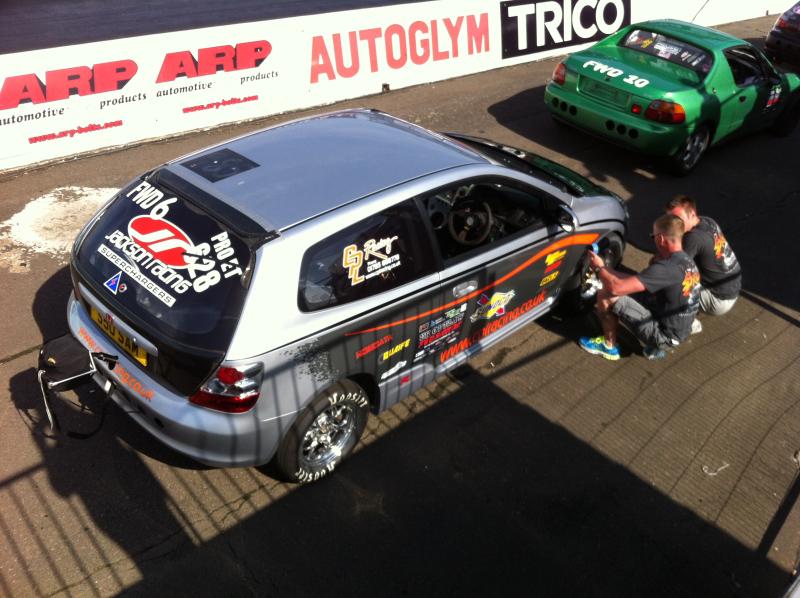 Yet again the little CPL Civic did not disapoint, and on the first qualifying pass off the trailer CPL's Guy Chamberlain set yet another new record of 9.45 seconds @ 156 mph.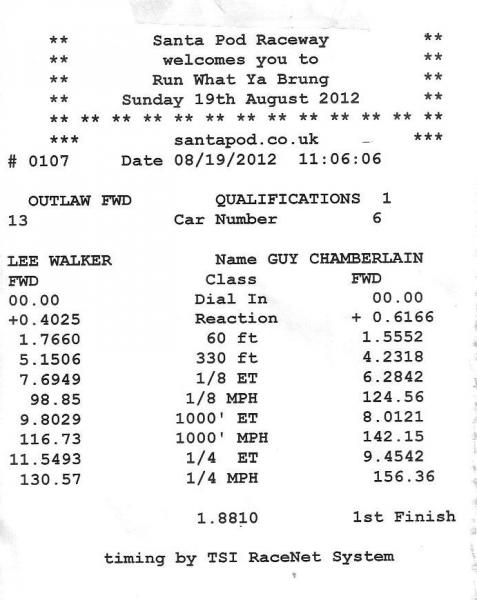 Video of the run can be found here: -
http://www.youtube.com/watch?v=V9JM5atilmM&feature=player_embedded
Unfortunately, due to a mis-shift, Guy was knocked out in the 2nd round of the eliminations but he was more than happy to see "The Legend" Andy Nichols take the win for the Outlaw Shootout in his Rover. Andy has been running consistent low 10 second passes for years now and his reliability and consistency finally paid off for him. A huge "Well Done" to Andy. CPL's Guy Chamberlain didn't walk away empty-handed and picked up the prizes for quickest 1/8th mile, quickest 1/4 miles, mph at the 1/8 and 1/4 and no1 qualifyer.
Below - Andy Nichols collecting his well-deserved trophy from Richard Batty and Guy Chamberlain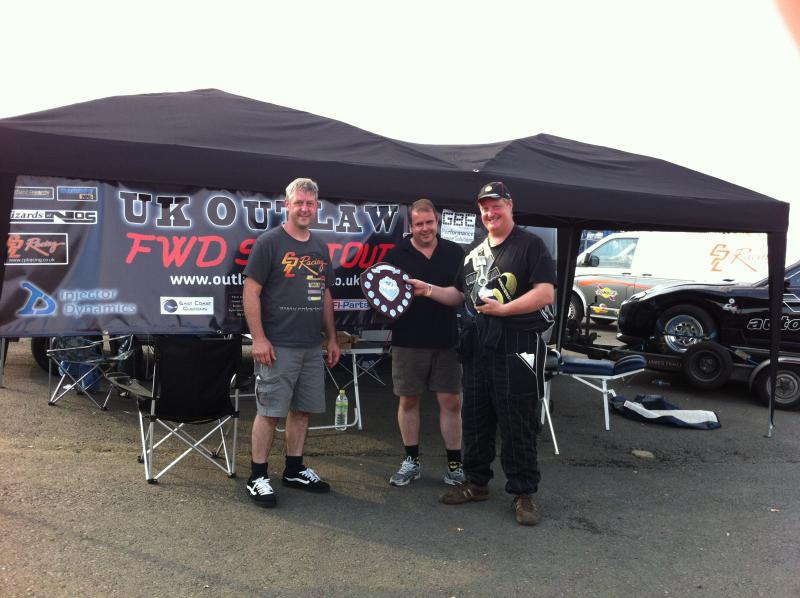 Also well done to Kiel Priestman who took a number of prizes including fastest B series Honda and quickest reaction time.
Below - Kiel Preistman collecting one of his numerouse prizes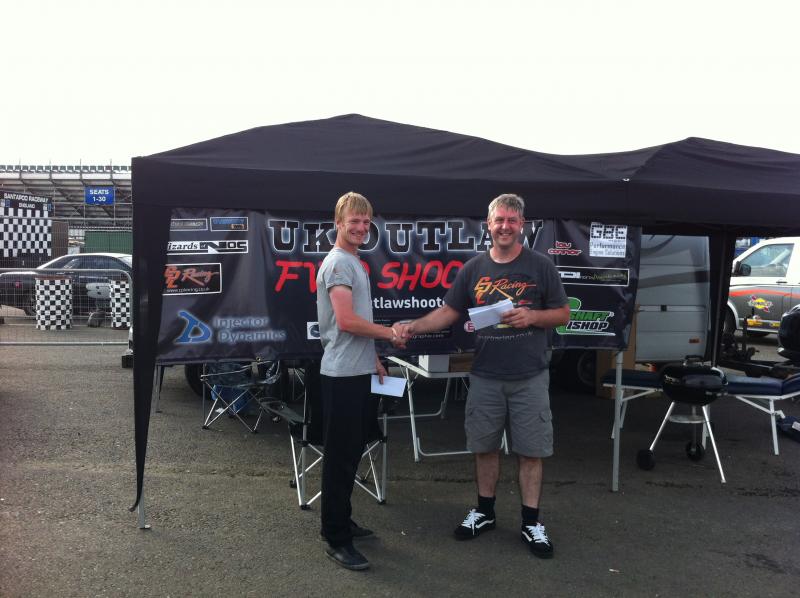 CPL would like to thank Paul Cresswell, Karl Hart, Neil Knight and all their families and friends for coming along to support the CPL car and the Outlaw Shootout Event. And also a big thankyou to Richard and Libby Batty for immense hard work that went into the event and all the Outlaw Shootout sponsors.
We would also like to say a massive thankyou to Dale at Quaife Engineering for manufacturing a gearbox part for the CPL dog box at short notice.
Finally we would like to express our sincere gratitude to all the CPL Racing sponsors and supporters, who, without which we would not have been able to continually break records over the past few years. Thank you to:
ARP Fastners, Sunoco, Quaife Engineering, Hondata, Clutchmasters, Hauser Racing, Injector Dynamics and Earls Performance.
A further write-up of the 2012 Outlaw Shootout can be found here
http://outlawshootout.co.uk/2012-event.php
CPL Racing Break European FWD record again
---
On 13th July 2012, the CPL turbo Civic smashed the European FWD record again by running 9.64 seconds at 155 mph. The track was not particularly good and a problem with a shift fork prevented any further runs, but there is still lots more to come from this little car. Watch this space !!!!!!
Well done to Guy and Paul of the CPL team ...........
Link to video below: -
http://www.youtube.com/watch?v=qlkThiZ6F6o&feature=plcp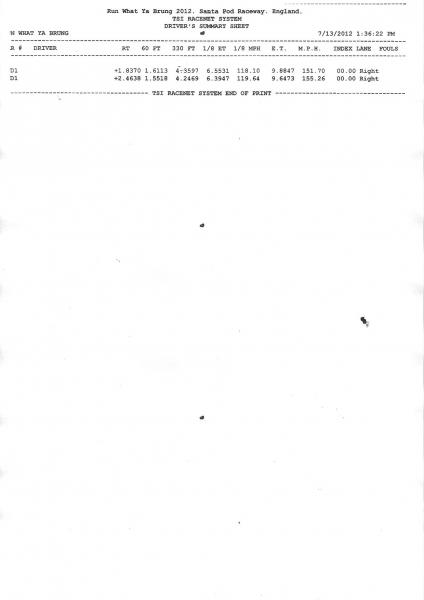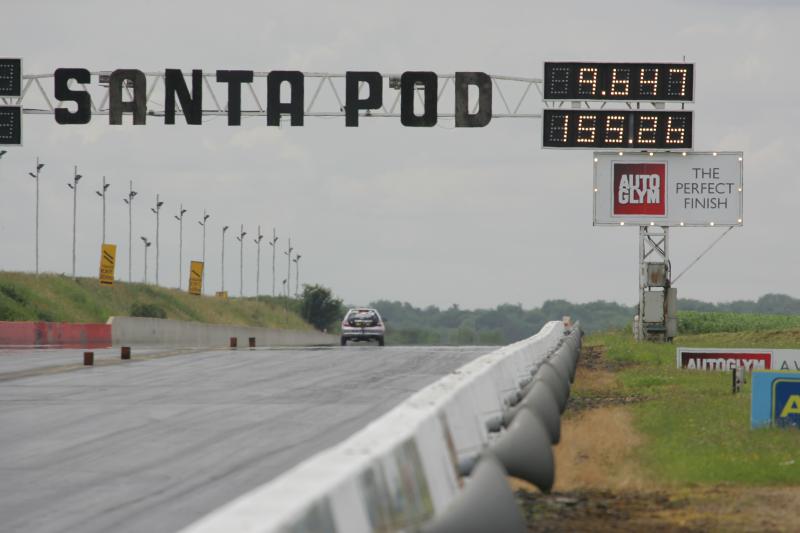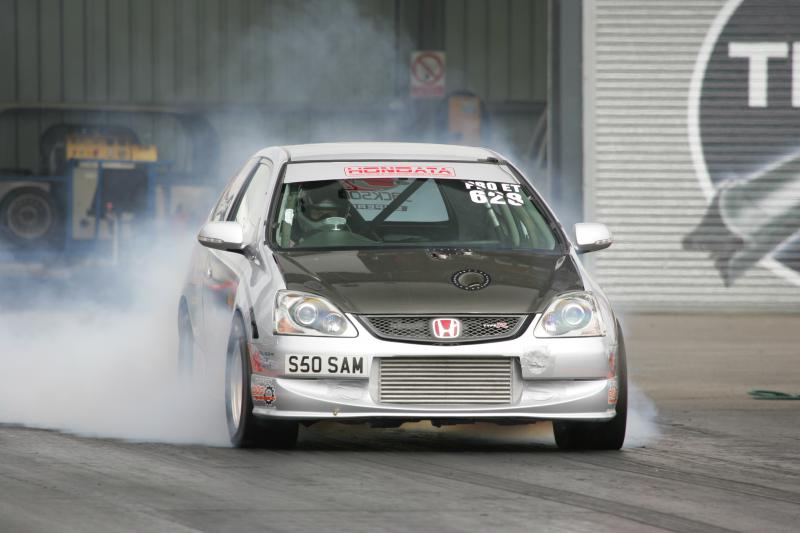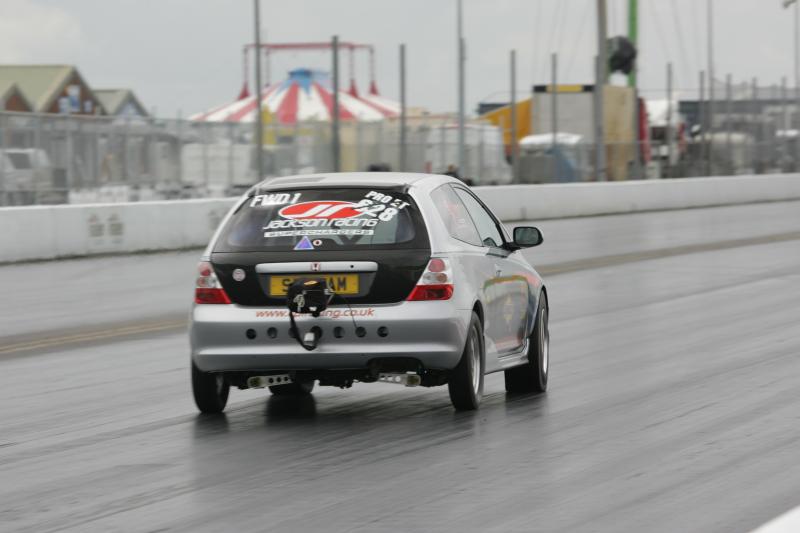 CPL Racing now Injector Dynamics Distributor
---
CPL Racing are pleased to announce we are now distributors for the high quality Injector Dynamics injectors, and have 725cc, 1000cc and 2000cc injectors in stock for many applications including Honda, Subaru, Nissan, Mitsubishi, Audi, Ford, Mazda, VW and some US cars such as Buick.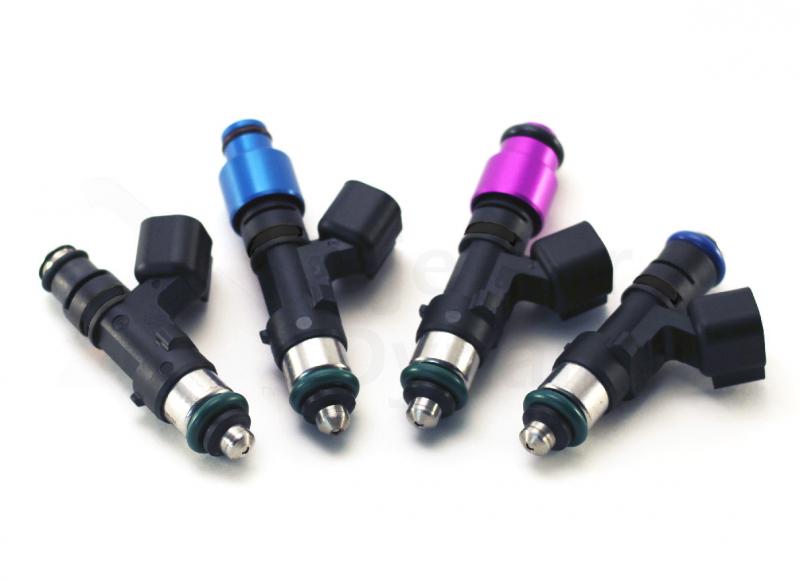 For more information see our separate Injector Dynamics page or email us at guy@cplracing.co.uk
Hondata Kpro 3
---
Available now from CPL Racing, is the new improved Hondata KPro 3 system at the existing Kpro price of £575 incl VAT (£479.17 excluding VAT for customers outside the EEC). Hondata have been working hard as usual to bring even more great features and functionality to their already unrivaled KPro engine management system.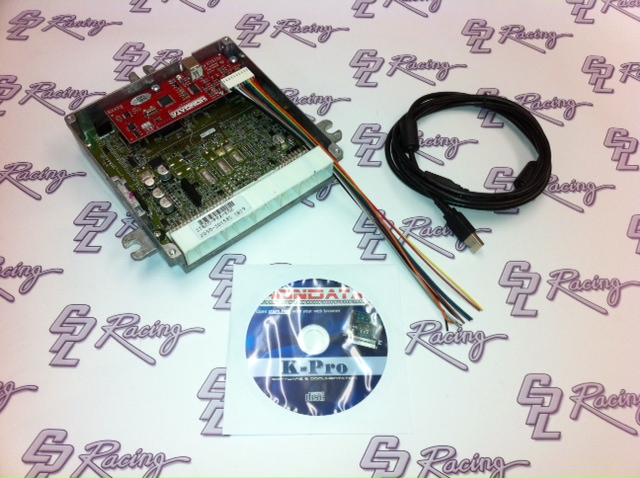 K-Pro 3 consists of a hardware modification to certain K-Series ECUs, plus Windows software which allows you to re-program the ECU and datalog sensors. In addition to all the standard features Kpro already had to offer, the new K-Pro 3 has the following enhancements:
· Twice the on board datalogging memory
Without additional analog inputs the KPro III has twice the data-logging length capability of the previous generation KPro. With analog inputs, the data-logging length is approximately the same as the previous generation.
· Three times the programming speed
The typical initial upload time has been reduced from over 30 seconds to under 10 seconds. Subsequent uploads are also faster.
· 8 additional analog inputs for datalogging.
The KPro board has eight 0-5V analog inputs, which can be used for temperature, pressure, wideband, EGT or any other input which provides a 0-5V signal. The analog values are both stored in the KPro and in any datalog made from the KPro, which means that you do not need to change the analog input settings when switching between datalogs from vehicles with different analog inputs.
· Anti-theft security enhancements
Similar the the FlashPro, password protected owner information can be stored on the KPro. This results in a KPro which has owner identification which cannot be changed if stolen. Additionally, an upload security password can be used, which and renders the KPro unusable if stolen.
· On board calibration storage
Similar to the FlashPro, the uploaded calibration is now stored on the KPro in a form which allows a quick and accurate download from the KPro.
Examples of items which can be data-logged to the KPro III's additional analog inputs
·

Oil Pressure

·

Oil Temp

·

Acceleration (G meter)

·

Exhaust gas temperature

·

Wideband Lambda

·

Fuel pressure

·

Air temperature

·

Fuel temperature

·

Transmission oil temperature

·

Air pressure

·

Exhaust back pressure
CPL Racing has a full range of analogue sensors available. If required please email us for prices.
In addition to the new features, the Kpro 3 maintains the below existing features of the previous versions of Kpro:
Fits inside the ECU
USB connection for speed and compatibility

KManager

Windows based software for parameter & table editing, calibration uploading and data-logging.
Built in calibrations
Built in data-logging to a laptop
On board data-logging memory (32 MBit memory, 10-200 minutes data-logging)
Adjustment for different sized injectors, with overall fuel trim and injector dead time compensation
Configurable for any MAP sensor (to 5 Bar and above)
TPS based table lookup for ITBs
Engine protection from over boost and lean protection.
Expanded fuel and ignition tables, both in rpm and load, to 60 lbs boost and 11,000 rpm (these are not the upper limits)
Launch control with anti-lag
Knock control
Three multi-purpose outputs for nitrous control or similar
PWM output for boost control by RPM and gear